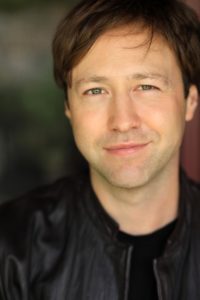 Russell Brown's fourth narrative feature, Search Engines, stars an ensemble cast including Joely Fisher, Connie Stevens, Daphne Zuniga, Natasha Gregson Wagner, Barry Watson and Michelle Hurd. It premiered at Cinequest and has played more than 35 festivals across the country, picking up over 10 awards in categories ranging from acting, directing and writing to audience awards and best picture recognition. It was released by Indican Pictures in October, 2016 in select cities.
"Well-considered insights… Sharp banter… Insinuating camera moves…" (The Hollywood Reporter)

"Filmmaker Russell Brown clearly had something pertinent he wished to say about our plugged-in, tuned-out obsession with the Internet and was obviously going for a Luis Buñuel-Robert Altman style of social commentary." (The Los Angeles Times)
His third feature film, Annie and the Gypsy, starring Cybill Shepherd, premiered at the Seattle Film Festival in June, 2012. Osiris Entertainment distributed the film in Spring, 2013.
"Writer/director Russell Brown makes short, sharp films that investigate how and why friends treat each other badly… In Annie and the Gypsy, Brown's most ambitious, and arguably most accomplished film to date, Brown provides a keenly-observed study of the title character (deftly played by Cybill Shepherd) who throws a Spanish-themed dinner party hoping to reconnect with Gordon, a man she loved in Spain decades ago." (Film International)
The Blue Tooth Virgin, his second feature narrative, was released theatrically in the United States by Regent Releasing in September, 2009. It won the Special Jury Prize at the Seattle International Film Festival in the New American Cinema competition.
"Hilarious, acutely knowing… Yet comedy enables Brown to dig into the art-industry equation that is the eternal Hollywood challenge, as well as questions about values, priorities, standards, goals — all leading to what is all-important: self-knowledge. It's not too much to hazard that Billy Wilder would have enjoyed The Blue Tooth Virgin." (Los Angeles Times)

"What's striking, brilliant, and refreshing about this story is its sheer minimalist quality… And what dialogue it is! Beautiful and quotable, intriguing and challenging. There are so many great themes here, you truly wonder how writer/director Russell Brown will find something else to write about in future projects." (Film.com)
Race You to the Bottom was released theatrically in the United States in March, 2007, by Here Films. The film played at festivals worldwide and earned a best actress award at Outfest.
"Top notch… Writing and directing with perceptive wit, Brown adroitly captures the quicksilver shifts in moods within a tempestuous, passionate romance between two articulate, free-thinking young people." (Los Angeles Times)

"Brown's screenplay and direction, both economical and unshowy, sketch character dynamics in crisp terms that resist the temptation to explain all, beg sympathy, or heighten drama for purely histrionic purposes." (Variety)
Brown recently directed the educational program Karen Black: On Acting, a master class seminar with the iconic actress. The film has screened at festivals across the country and will have its television premiere in August, 2014, on PBS stations.
He has also made numerous well-received short films. Conversation With a Cigarette, a one-man chamber piece starring the well-respected British actor Ian Hart, is about a man facing his greatest enemy: A Cigarette.
Mama Laura's Boys (2002), about the oldest blues club in Los Angeles, was broadcast on PBS, and Reality USA (2004), a study of the emotional and geographic landscape of America, was based on work by the noted poet Mark Halliday. Both short films premiered at the Tribeca Film Festival.
Everyone Who Hears This Story Gets Laid (2012), starring noted performance artist Philip Littell, premiered at Outfest. Russell provides support to hospital patients across Los Angeles as a certified animal therapist with Love On 4 Paws. He also serves as the organization's fundraising coordinator.
He has also served on the board of the Los Angeles Zoo and was awarded a commendation from the City of Los Angeles for his work with the Boys and Girls Club of Venice.
A Phi Beta Kappa from the University of Southern California's Film program in 1998, he held creative executive positions with Laura Ziskin Productions at Columbia Pictures and Saturday Night Live Studios at Paramount Pictures. Russell is a long distance runner, swimmer and triathlete.
Russell is a member of the Writer's Guild of America and is a Film Independent Producing Fellow.